Falcon Logic Value Added Applications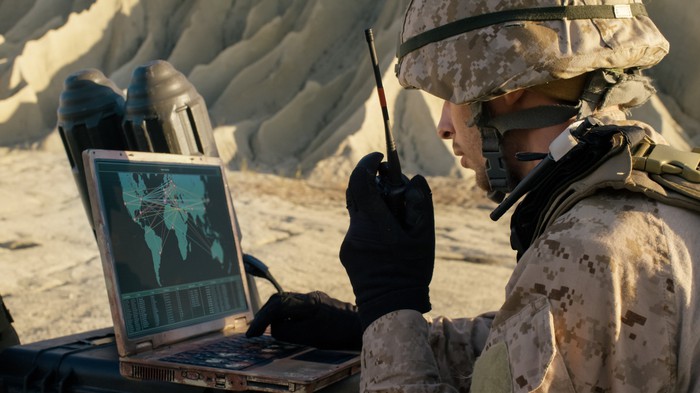 Our Value Proposition: For organizations who require innovative applications, the Falcon Logic noNet app is a development architecture that enables your workforce to continue operation even when network connectivity issues exist. Unlike traditional architectures that require every interaction with your application to have an always on network connection, Falcon is changing the rules.
Network connections are not always reliable. Your applications should be.
We build cache based apps that do not require always on network connectivity and operate through microservices that scale in the cloud.
3 key design principles:
noNet App: Falcon noNet App solutions center on a cache based local storage mechanism enabling your workforce to collaborate then sync cached data when network connections become available.
DataSync: Our low-high blockchain based data sync service enables data from theater to overhead based assets to be synchronized across multi-INT environments for critical decision making.
Mono to Micro: our design breaks down the traditional monolith into smaller microservices orchestrated through containers to enable scale on cloud infrastructures.
We are changing the rules on how application data is created, viewed, and shared among analyst groups.
What Sets Us Apart?

Falcon is unique because we are led by technologists. It means our hiring decisions, product selection, process and practices are led by software developers with over 20 years experience in the field. Falcon is a software firm run by software engineers. Would you hire a construction firm run by a tax accountant?
We are not a staffing firm. We deliver software. Our MD customer required an application capable of map annotations without network connectivity. Our rapid delivery process delivered working capability within 3 months. Software development doesn't have to be a laborious, tedious process. Find out how Falcon makes software fun.
Birds of a Feather
A successful company's biggest obstacle is retaining the right talentwith the right skill sets in the constantly evolving technology field. We have created a unique fun filled culture that not only retains and attracts the industry's top talent but it also fosters our award winning creativity.
Company History
Falcon Logic is a Women Minority Owned small business established in 2009 and SBA 8(a) certified through 2028. As an ISO 9001 and ISO 27001 certified firm, Falcon Logic has delivered cloud/web based applications, microservices, scanning applications, e-learning solutions, and mobile solutions for over a decade. Our cleared software development professionals serve the nation's top commercial, federal, and Intelligence Community clients. 2) To do so with a dynamic and fun group of people working towards this goal.
Falcon Logic was founded with two intertwined principles in mind:
1) To build a fast-growing, profitable organization that delivers mission critical solutions; and
2) To do so with a dynamic and fun group of people working towards this goal.
Work with Falcon





NAICS Codes
511210 - SOFTWARE PUBLISHERS
518210 - DATA PROCESSING, HOSTING, AND RELATED SERVICES
541511 - CUSTOM COMPUTER PROGRAMMING SERVICES
541512 - COMPUTER SYSTEMS DESIGN SERVICES
541513 - COMPUTER FACILITIES MANAGEMENT SERVICES
541519 - OTHER COMPUTER RELATED SERVICES
541712 - RESEARCH AND DEVELOPMENT IN THE PHYSICAL, ENGINEERING, AND LIFE SCIENCES (EXCEPT BIOTECHNOLOGY)
541990 - ALL OTHER PROFESSIONAL, SCIENTIFIC, AND TECHNICAL SERVICES
611420 - SOFTWARE APPLICATION TRAINING
PSC Codes
U012 - EDUCATION/TRAINING
U012 - INFORMATION TECHNOLOGY
U012 - TELECOMMUNICATIONS TRAINING
7030 - ADP SOFTWARE
D308 - IT AND TELECOM - PROGRAMMING
National Institute of Governmental Purchasing (NIGP) Commodity Codes
91829 - Consulting Services, Computer Software
91830 - Consulting Services, Computer Network
92003 - Computer Services, App Service Provider (Web Based Hosted)
92004 - Computer Services, App Software (For Main Frame Systems)
92005 - Computer Services, App, Infrastructure, Hosting & Cloud Comp
92007 - Computer Services, Applications Software for Microcomputer
92014 - Computer Services, Applications Software (Minicomputer Sys.)
92015 - Computer Services, Assessment & Profiling of Software
92027 - Computer Services, E-Commerce Software Development Services
92037 - Computer Services, Networking Services
92039 - Computer Services, Processing System Services, Data
92040 - Computer Services, Programming Services, Computer
92056 - Computer Services, Systems/Executive Software, Microcomputer
92063 - Computer Services, Systems/Executive Software, Minicomputer
92064 - Computer Services, System Implementation & Engineering
92066 - Computer Services, System/Network/Database Administration
92091 - Computer Services, Training, Computer Based (Software Supp.)
Mission
Through continuous development, professionalism, integrity and commitment to our clients; Our mission is to deliver innovative software solutions with a team that is proud of the quality of their creations.
Vision
Falcon Logic will provide an unparalleled experience as the most desirable employer of software development and technology professionals.
Culture
As a technology driven company, Falcon Logic places a high value on technical competence and project performance. Falcon Logic places an equal, if not greater, focus on the "intangibles" that truly make an organization great. Things such as positive attitude, leadership, and teamwork are core to Falcon Logic's philosophy and culture.

Falcons are known for their incredible hunting skills (in code) and being a ruthless, dominant predator within their environment (in code).
Logic a set of instructions in a computer or electronic device so as to perform a specified task.
Falcons fly by a core set of values:
People: We are committed to the satisfaction of our clients, staff, their families and our community.
Integrity: We appreciate our achieved success, never forget our roots and morals, and always act with integrity and excellence.
Quality: We are committed to continual improvement of our services and proudly adhere to ISO requirements for excellence. We will consistently provide products and services that meet or exceed the requirements and expectations of our customers. We will actively pursue ever-improving quality through programs that enable each employee to do their job right the first time and every time.

Fun: We will expand our team when appropriate and we will never over work our team members. We will maintain a fun productive work environment, meet interesting people, travel to incredible places, and quote a lot of movies. "Yo Adrian!"